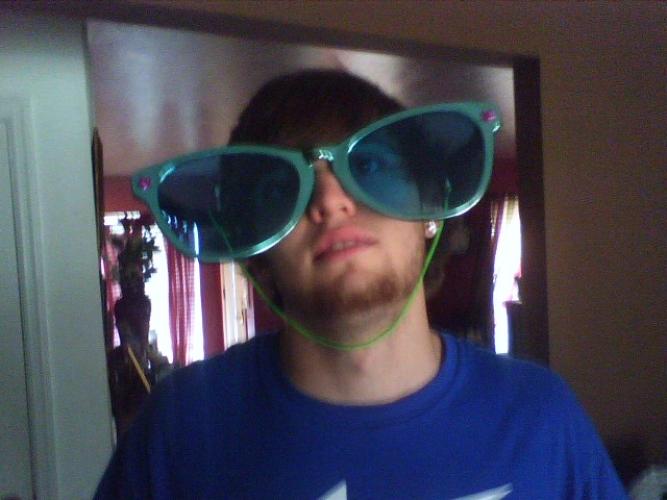 Born in on November 13, 1990.
I waited to get married before planning my family. I very much wanted a little boy first but of course would be so thankful with a girl or a boy. To my complete enjoyment I had Codie. He was perfect. He was such a joy from the day he was born until the day god called him home. He is one of the few people in the world who are men who are so totally and completely sensitive. He was always worried about everyone. From the time he was a toddler helping with his baby sisters to the times he thought someone was picking on one of his sisters he always was worried about them. When he was a toddler he helped push the baby carraige, feed them and even change their stinky diapers. He would laugh and say MOM this is HORRIBLE how can you change these diapers everyday. I had to remind him that he was also in a diaper when he was a baby and I had to do the same thing. He was amazed at life. He loved to bike ride with his friends, laugh and play jokes on each other and most of all he just loved to be himself. Codie had the unique ability to make friends no matter where he went.
Growing up in Massachusetts and then moving to North Port , Florida was a big under taking for the entire family. HE was scared and so were we all. He was able in no time to make some amazing friends. It was like straight out of a movie Sandlot. The kids all bonded and played basketball, baseball, wiffleball, dirtbiking almost everyday. It was a heart warming neighborhood that really helped codie learn what true friendship was all about. He was my light. When life got tuff during a difficult marraige he was my rock. Always worried about my happiness and putting his aside. That was unreal for a child. I wish I could have let him live a little more and worry alot less. There was not a day that didn't go bye that he did not have me cracking up at his antics. He was truly one of the funniest person's I have ever met. Once moving from north port we moved to Ft Myers. He was blessed with some great friends there as well. He started at Cypress Middle and was able to make some fantastic friends and also kept in touch with the old ones from north port . We were all like one big family. Codie always made sure they knew they were important to him. He was always the first one during a dare to eat that bug for a dollar. The first one to moon someone for no reason and ask DOES MY BUTT LOOK BIG. He even went so far as to see how many slices of pizza he could eat at the buffet at cici's pizza before barfing. He set the record that still cannot be broken I believe at 27 slices. He lived life like there was no tomorrow cherishing every laugh, and every chance he could take to make someone feel better when they were sad. He would tell me when i was sad that mom if you dont smile i am going to come over there and make out with you right now. LOL I mean who couldn't laugh at that. His warped sense of humor just made people draw to him as he was quite a unique person. There will never be another codie. God made only one and he was special in everyway. I know that he loved his friends so much and his family. He struggled with depression and at times it seemed like he was mad at the world but he didnt' know how to handle it. It was beyond our control. We saw glimpses of him from time to time and when those moments happened we all felt like the world was perfect and when he wasn't on his game it felt like the world was off it's axis. It was amazing how one person affected so many loves. He was amazing. He couldn't stay mad, he hated to be hated and only wanted people to love him and accept him. He put a shell up around him to avoid being hurt at times but we all knew the real codie was a true lover in every sense of the word. I will miss the green beans codie being thrown at me at dinner time... I will miss touching your beard and saying you need to trim that you look like a transiant.... I will miss his WalMart finger signs,..... I will miss his hugs.... I will miss his pout he would give me when i would tell him no. It was the same pout he pulled on me when he was 4. He was an amazing athelete, and student but most of all he was an amazing son, brother, and friend. The world was better to have known him and will be lesser for losing him. God gained an angel who is absolutely hilarious. I hope right now he is entertaining god with some of his ridiculious falls, stories, or silly antics. I will never be the same without you in my life codie. You were and always will be my best friend. There are no boundries to love. Right now you are just in another room waiting for my time to visit. When I arrive someday codie please give me the biggest hug because i will have missed you so much. Please tell me how much you love me because i will have missed hearing it. Until then my son, my best friend.....You are in my heart and mind every second and will be there until we meet again. You were the best thing to have ever happened in my life and I will always be thankful even for the short 18 years god gave us together. YOUR MY HEART. I LOVE YOU ALWAYS AND IN THE THEREAFTER.